What is a Vocal Producer?
Have you ever wondered how Beyoncé, Prince, Rihanna, Adele and Michael Jackson were able to deliver perfect vocal performances on every record? These artists are all phenomenal singers in their own right. But they all had help in the studio to make sure they were delivering an amazing performance.
Vocals are often the most crucial part of a record – some say they can make or break a song. This is why the role of the vocal producer in ensuring the lead vocals convey the emotion, as well as making the artist feel confident they can deliver the right performance, is fundamental to recording a hit song.
Vocal Producer vs Music Producer
If the role of the modern producer is to "oversee the entire recording project, working directly with the artist and the engineers to achieve the goals in the creation of the music," then the vocal producer is the person responsible for ensuring the vocalist's performance conveys the message and emotion of the song.
At Abbey Road Institute Sydney, we're lucky to have a number of Studios 301's talented vocal producers on hand. They can teach you how to get the best performance out of a vocalist. One of those is Simon Cohen, vocal producer for Justin Bieber's number 1 hit "Love Yourself".
For Simon, the session starts the moment the artist walks through the door. "As soon as you [the artist] walks through the door, you're like a long-lost best friend that I haven't seen in 10 years. Most of the sessions that I do tend to be me and the artist one-on-one [so] I want it to feel really safe but equally, I want to be able to control the energy in that room."
In contrast, master topliner and vocal producer Paul Brandoli believes a great vocal performance can sometimes come from outside an artist's comfort zone.
"It can be challenging for a vocalist to sing lyrics or melodies they haven't written and they're guided somewhere they may not naturally go to but sometimes this is where the magic happens."
What is not disputed is the need for an artist to wholeheartedly trust the vocal producer. It is critical for an artist to feel like they can trust the producer to bring out the best in them. And that often comes from being relaxed in a session and trusting the integrity of the producer. The vocal producer is there to support and encourage the artist. And hopefully bring out a performance they might not have known was possible. In the words of Abbey Road Institute alum Ramera Abraham,
"The most delicate thing is your relationship with the artist and how you maintain that. At the end of the day, they have to want you in the room."
What roles can a vocal producer perform?
A well-rounded vocal producer can take on a number of vocal-specific roles in the lifecycle of a song. This can range from technical roles as a vocal coach – ensuring the artist properly warms up their vocal cords and is singing correctly – to studio roles such as a vocal engineer – responsible for the setup of the console, DAW and vocal microphone, and keeping track of the best takes.
Many vocal producers prefer to take on multiple roles in a session. That way they don't need to share the room with additional engineers and assistants. This ensures that the trust and vibe between the vocal producer and the artist aren't interrupted. However, the benefit of having a separate recording engineer is that the session will run quicker. This allows the vocal producer to focus purely on the artist and the recording engineer to focus on the technical.
Famous Vocal Producers
So now that you know all of the major artists have a vocal producer coaching them through their studio sessions, let's dive into some of the great vocal producers here and abroad.
Kuk Harrell
One of the greatest modern vocal producers around. The Grammy Award winner is a sought-after talent with a resume that includes the likes of Rihanna, Beyonce, Pentatonix, Usher, Jennifer Lopez, Jamie Foxx, Mary J Blige and many more. Not only is he an illustrious vocal producer, but he can also add 'accomplished songwriter and engineer' to his portfolio career, and has many accolades attached to his collaborations with 21st-century hit-makers Christopher "Tricky" Stewart and Terius "The-Dream" Nash.
In an interview with Chicago Reader, Kuk talks about selflessness and how that led to him being successful.
"See yourself, and go into every situation, as an open canvas. It's not my job to make them sound like me. It's not my job to make them act like me. The only thing is just me saying, 'Man, let's get that.' The only time I can really shape and craft who they are and what they sound like is when they're in the booths."
Dealing with emotions can be a tough part of the job. You need the artist to really be in the right state of mind to deliver the perfect performance. It's for this reason that a vocal producer needs to be a people person. "You have to know how to read people, because as the artist is in the booth, they go through so many different emotions."
Seth Riggs
The inventor of the Speech Level Singing vocal technique has been working with some of the industry's greatest talents, including Stevie Wonder, Michael Jackson, Prince, Barbara Streisand, Ray Charles and Earth, Wind & Fire.
According to Seth, "Speech Level Singing applied correctly eliminates breaks between chest voice and head voice, increases range as well as ease in which to sing." This vocal technique has helped preserve singers' voices over a sustained career, and Riggs himself has applied his teachings across music, TV and film.
Simon Cohen
As mentioned, Simon Cohen is one of Australia's premier vocal producers with an impressive list of clients and awards to his name. It's Simon's precise and detailed approach to vocal recordings which has made him a sought-after producer and engineer for both Australian and international artists alike. Alongside his enviable work with Justin Bieber, Simon has worked with will.i.am, Guy Sebastian, Illy, Thelma Plum, Justice Crew, JOY., Nicole Millar, Tuka, Masked Wolf and many more.
One of Simon's defining beliefs, which he articulated in his Industry Access session in 2021, is that the technical should never get in the way of the performance. "There should never be a situation where you're [the artist] primed to deliver something amazing artistically and I'm holding you back because of something technical."
Want some feedback on your tracks from Simon? Join us at Studios 301 on Monday, March 6 and submit your music! More details here.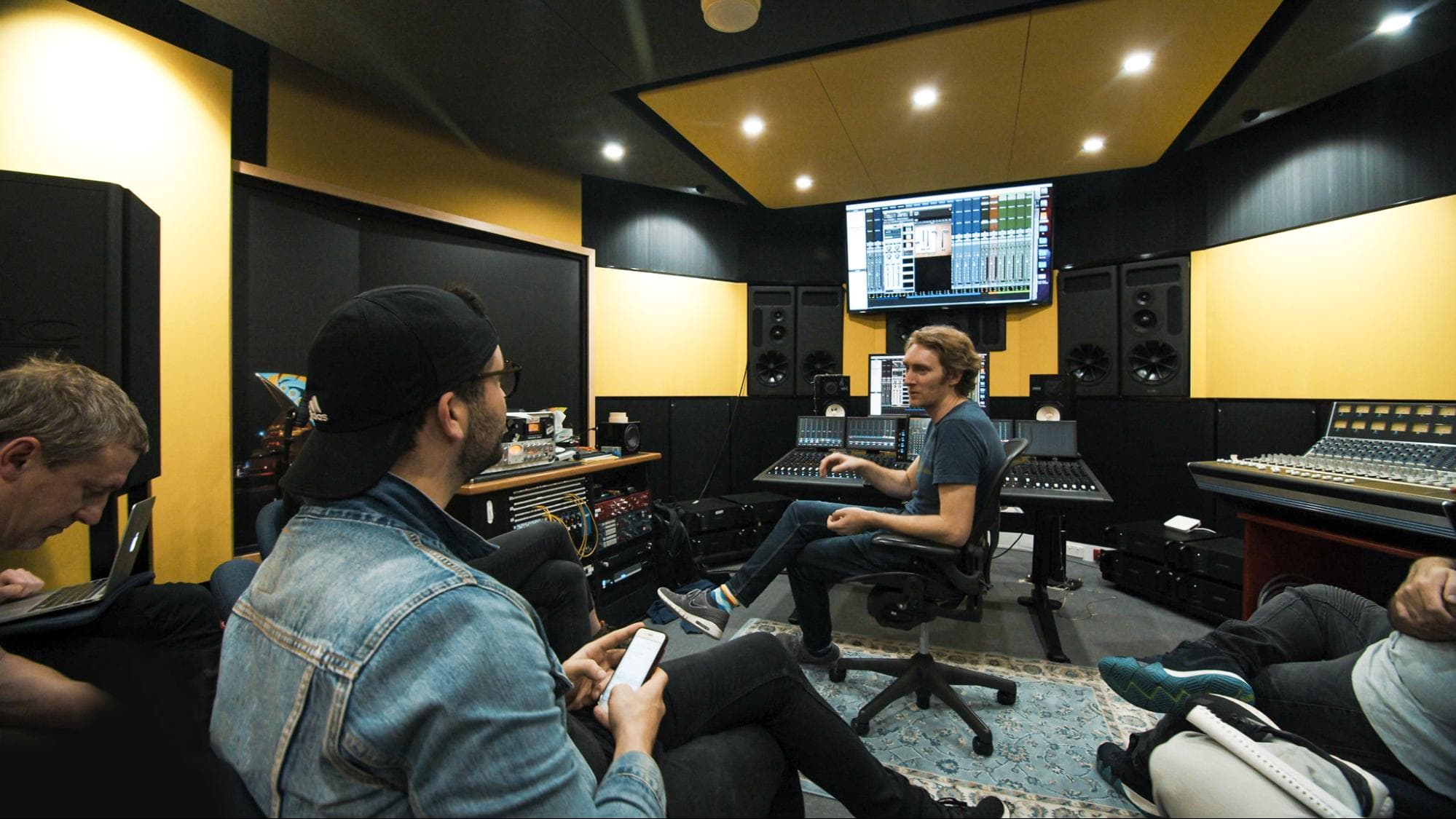 How do you become a vocal producer?
"If you're a dope vocal engineer, it's not that far from being a dope vocal producer." – Sydney producer and engineer ChunkyLuv
As with most studio roles in the music industry, the more diverse you can be the more value you can offer an artist. So, if you're already a skilled producer or recording engineer, then you likely have the knowledge, feeling and experience for what performance you want from the artist.
Likewise, if you're a strong vocal coach and enjoy helping singers discover their voice, then you have the skills to guide them through a recording session and nail the performance. And from there, once you pick up the skills of using a DAW, setting up a microphone and mastering your suite of plugins, then you're not too far away from being a vocal engineer as well!
So now you know the essential role a vocal producer plays in the making of a hit record and how you can start producing vocals in your next session! If you're interested in building your skills across a number of different roles, dive into our series on building a portfolio career.